stradbroke Island

In the south east corridor of Queensland in Australia there are 4 majortribal language groups of the coastal region.
Nunukul country is positioned 40km just off the coast of Brisbane on Northth Stradbroke Island.
Before the turn of the century into the 1900s North & South Stradbroke Islands were joined which once was called Stradbroke Island.
Nunukul
occupied both Islands through sub-clans or family groups speaking the language of Jandai.
The Yuggera tribal group take in a large area, from the mouth of the Brisbane River near the Brisbane International Airport finishing on the south side of Esk to the Great Dividing Range near Warwick & Toowoomba.

There are many subclans/families which covered this area.
When settlers dominated the Greater Brisbane less abundance of food was available, the Yuggera families began to move to the Islands and many also settling at Ipswich west of Brisbane.
Yugimbir language speakers are the original occupants of the Gold Coast. The Yugimbir have a truly beautiful country stretching from the Logan River in the north, south to the Tweed River and out to the mountain Rainforests and beyond.
Nugi Are the Aboriginal people of Moreton Island, known in the language group as Mugumpin. A near untouched and pristine Island.

The Nugi moved in the settlement times to Stradbroke Island, Cherbourg and other various areas, but have still maintained a rich heritage with one of the most beautiful languages spoken in the south east.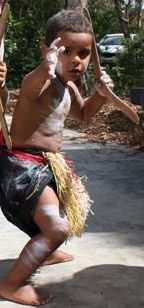 Nunukul Yuggera Jarjum Dancer (Lyric Ruska)
Click on the google map to take you to Stradbroke island and the Ipswich region of South East Queensland Australia